Posted by David Button on Jun 16, 2021
This week's meeting had it all! Life and death, engineering, business, humanitarian pursuits and bad internet. There was something for everyone and all members attending Holm Park were very interested in the topic for the night, flat-packed coffins. Perhaps some were window shopping for a loved one, others were intrigued by the engineering and manufacture and I was interested in the humanitarian aspects that Rotary may be able to utilise. Unfortunately, the internet was dodgy, but the Zoomers all hung in there and hopefully got the gist of the presentation, even though they probably didn't see it. Our caterers put on a terrific dinner and the atmosphere in the room was alive. A great night out on a cold winter night.
Speaker Casey Wong from ICONTAINER spoke about the engineering, manufacture and marketing of a range of patented flat-pack coffins and caskets. The coffins were designed to take up as little space as possible (unassembled), easily fitting in the boot of a normal car and weighing less than 30kg. This was important for ease of distribution and storage, especially if used in areas of natural disasters or war zones.
Assembly of the coffin takes around eight minutes and there are no nails or tools required. This allows family members to be involved in putting it together and decorating it if they wish. The coffin is designed to hold one tonne, so it is very robust!
The coffins are currently made from plantation grown
Paulownia
tomentosa
(Empress tree), one of the worlds fastest-growing trees, growing up to 30m tall. For the tree geeks out there: Trees can grow to maturity in under 10 years and produce strong, lightweight timber, good as firewood, with an even higher
strength to weight ratio
than
balsa
wood. This tree is grown widely in China, but is native to Japan and Korea. From a cremation point of view, using lightweight timber with no nails means there is a faster burn rate, little ash and no metal to recover.
Humanitarian opportunity: IContainer are looking towards Rotary International to make these coffins and caskets available in areas of natural disasters and war zones. If utilized in poorer nations that have manufacturing capabilities, there is also an option for local manufacturing to avoid transport costs. The "Rotary version" would not have handles, as this is an expensive part of manufacture. They are currently manufactured in China, but these are early days for this business and their focus is mainly on the humanitarian side, rather than disrupting traditional markets.
This talk was organised by Rotarian Adwin Town. The presentation pdf can be found
HERE
(21Mb)
Happy Snaps taken by our great photographer Sandi can be found
HERE
Posted by David Button on Jun 16, 2021
Just under 12 months ago our Club had its Changeover at the Caulfield residence via Zoom, under difficult COVID times.
While swapping over Presidents is a thing we seem to do a lot in Rotary, it is nonetheless a yearly ritual that is significant and a time to celebrate where we have been, what we have achieved and where we are heading.
These last eleven plus months have been quite a ride, and the next twelve will be just as interesting.
So far, there are 31 people booked in, 11 of which are Club members. Looking at the guest list, it will be a very pleasant night out.
Wednesday 30th June 2021. 6.30pm for 7.00pm start.
Only $22 per person. Two-course dinner, drinks at bar prices.
Venue is the fabulous Beaconsfield Club at Holm Park, 100 Beaconsfield-Emerald Rd, Beaconsfield VIC 3807
Submitted by PP Isobel Caulfield via Facebook
We did it!
We walked over 240km East to West on the Larapinta Trail in 15 days. We had an extra day at Ormiston Pound.
We left from the Alice Springs Telegraph Station walking via Simpsons Gap, Stanley Chasm, Ellery Creek Big Hole, Sepentine Gorge, Ormiston Gorge, Glen Helen Gorge and Redbank Gorge. Finished by climbing Mount Sonder in the dark with freezing strong winds, to see the sun rise.
Our longest day was 32 km, shortest 12km. We walked through dry riverbeds, sandy trails, rocky trails, boulder hopped through gorges, climbed up and down steep rocky hills, walked across ridge tops. The landscape, vegetation and bird life constantly changed and was never boring.
It was tough, but we came through relatively unscathed. A bit of skin off and a couple of small blisters were our only injuries.
The guides Jen and Riley from Trek Larapinta were fantastic and looked after us well. They are so knowledgeable and provided great food. No washing for 16 days and sleeping snuggled in a swag under the stars added to it all. Even if we did wake up to frost on more than one day. A 7.30pm bedtime meant it was a late night!!!! We had a total of 6 guests walking. All got on well and all completed every day.
The photos don't do the magnificent ancient landscapes justice. Or the steep hills!!
Submitted by Campbell De Kretser
Over the past few months Casey-Cardinia Rotaract Club have been very busy with our efforts to fundraise and engage the community.
At the beginning of the year we hosted a 24-hour gaming live stream that raised $1500 for the Royal Melbourne Children's Hospital. We smashed our stretch goal of $1000 which made our very own Matt Carswell take a few huge bites of a raw onion.
In March we attempted the 'PSS Challenge' for Half Cut, where we raised $210. We followed this up with a 12-hour gaming live stream in April that raised $340 for Half Cut. Half Cut is an organisation focused on the revegetation and the conservation of the world's forests. When we host our live streams, we do it on twitch.tv/ccrotaract. Give us a follow on there to help us with expanding the potential reach of these live streams.
Throughout April, we were able to be one of the 'Local matters' groups at Grill'd. By being one of the three groups for April, we were able to get our name out into the community.
During May, we were lucky enough to be invited by the Casey Rainbow Community to run the BBQ at their Rainbow Community Picnic as part of Midsumma. It was a great opportunity to be able to engage with the local community, especially after the 2020 lock downs.
Also, during May we were awarded with the "Most Outstanding Event" of the Year and the "Most Outstanding Partnership with a Rotary Club"! This was an amazing achievement for the club being awarded two awards for our Harry Potter Trivia Night that we ran in conjunction with Narre Warren Rotary Club.
Looking forward to July, we're hosting a Bunnings BBQ at Fountain gate Bunnings on the 4th of July.
Posted on Jun 01, 2021
Extracted from The Rotarian 1st June 2021
The Rotary Club of Berwick has worked hard on its Public Image over the years, but with too few members trained up and focused on raising our Club's profile in the community, we are not getting the impact that we could have. Creating awareness of what we do and why we do it, are important ways of attracting the right people to join us. People who see and understand what we are about will strengthen our ability to do a lot more good work than we are able to do now.
Illustration by James Graham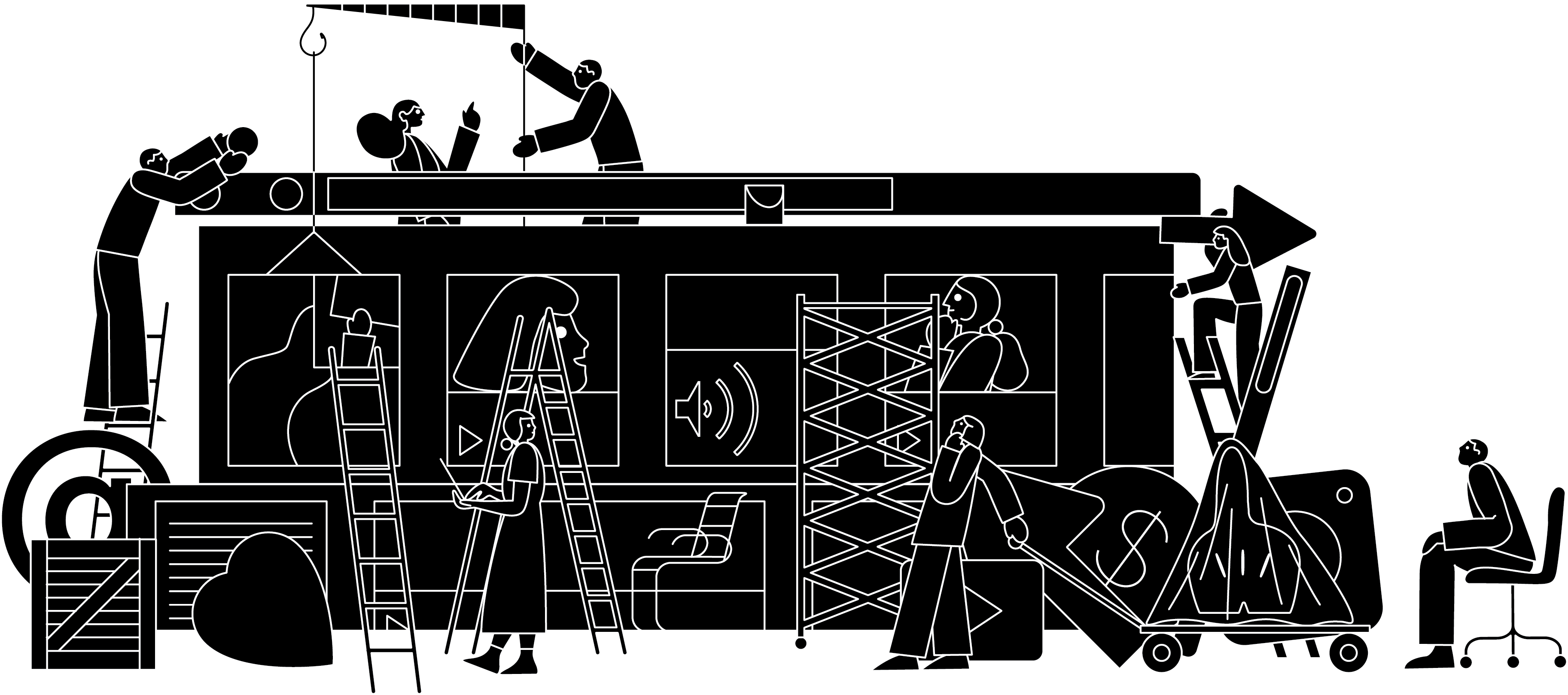 The Rotary Club of Philadelphia does great work, such as volunteering to support a food pantry during the pandemic. But the club wasn't getting its message out in the place where most people could find it: online! "Our old website was hard to use and was actually doing our club a disservice," says Jay Pennie, club president.
As part of a three-year strategic plan that includes boosting its public image, the club built a new website, turning to the Rotary Brand Center for resources such as logos, color schemes, and photos. "Our local photos show our personality and the friendships that we have formed," says Lisa Leonard, the club's public image chair. "The Brand Center photos show a bigger view of Rotary, which to a prospective member is very attractive."
The club also enlisted a professional videographer to create an eight-minute video, in which members told stories about what it's like to be part of the club; the video was posted on the refreshed website and shared on social media channels, including LinkedIn. Pennie says visits to the updated website have increased, and over the past two years, the club has seen a healthy growth in membership.
"We polled our new members about how they had heard about us, and they're all coming through our website," says Pennie. "It's opening us up to the people we didn't know before."
— Joseph Derr
DO IT NOW
Simplify the content on your website and make sure that images are strong and that all text is clear, accurate, and concise. The Rotary Club of Manly, Australia, divides its site into three main sections: club, projects, and speakers. This helps ensure that calls to action such as "Get involved" and "Donate" stand out prominently.

Incorporate Rotary's 'People of Action' graphics and web banners, which are available on the Rotary Brand Center. This will help you to make your content relevant to your club, while staying true to Rotary's global brand.
DO IT NEXT
Make sure your website is easy to maintain so you can spend less time updating and more time focusing on fellowship and community service.

Integrate social media feeds into your website. This ensures that there is always something new for visitors to your site to see; it also helps increase traffic to both your website and your social media channels. "Think of your website as your digital home and of social media as the space in which to connect with like-minded individuals and organizations."
— Andy Sternberg, head of social media at RI 59
FACEBOOK FIXES
DO IT NOW
DO IT NEXT
Consider a paid advertising campaign. This can be a relatively low-cost way to boost visits to your page or promote your next online fundraiser. You can also target your audience, Pennie notes. "That's the advantage of digital versus traditional advertising."
DO IT NOW
Get on Twitter if your club isn't already there. This channel is a great way to share news stories and inspirational messages, retweet Rotary International, and share photos and graphics from your events. Once you have an account, make a plan to tweet on a regular basis. One way to do that is to follow and retweet Rotary International, other Rotary clubs, your district, and other Rotary members.
DO IT NEXT
OTHER SOCIAL CHANNELS
DO IT NOW
DO IT NEXT
Consider YouTube and TikTok. Although videos require more work, the payoff can be huge. Check out the Rotary Club of Philadelphia's YouTube video at

philadelphiarotary.org

.
LOGO TO GO
The stories you tell about Rotary and the way you tell them matter, and Rotary's brand provides a consistent context for a variety of stories from clubs around the world. If you haven't updated your site recently, you may be using an outdated logo. Visit the Brand Center at

brandcenter.rotary.org

and download everything you need for use across your club's digital presence.