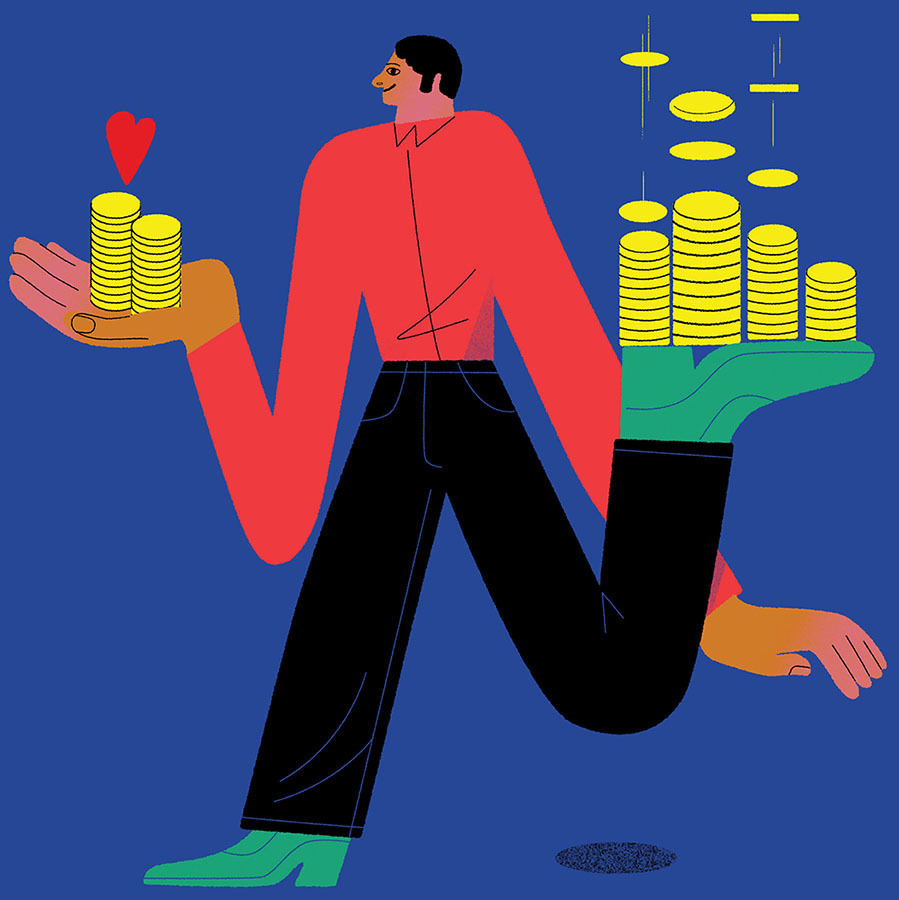 "The business is going great," Dave explained, "but I'm no longer into it. I've lost my motivation. I don't really feel a lot of satisfaction."
As we were talking, a thought occurred to me. I asked Dave, "Are there any causes or organizations you find interesting that you would like to support?"
The question caught Dave by surprise, and he sat back and pondered it for a moment. Then he told me that a couple of years ago, he and his family had gone overseas and visited a little village with no real school building and no resources to properly educate the children. They had said to themselves, "It would be neat to do something for these kids." But then they just kind of tucked the idea away, returned home, and went about their lives.
Hearing all that, I had another question for Dave. "What if you did this?" I asked. "Over the next 12 months, set a goal to increase your business, and a portion of that increase could go to building that school." His eyes got as big as saucers, and he sat up with a start.
Three months later, Dave returned to my office. He had much more zeal for his business — and for his life. "Derrick," he said, "you're not going to believe this, but our sales are already up 20 percent, and we've almost fully funded that school." As a business owner, he was reinvigorated. He had found a way to connect profits to purpose. By giving away more money, Dave was actually making more money.
This is the untold secret to making more money: giving it away. I call it the "Generosity Purpose." It's the reason my client's life changed — and yours can too.
Now I want to ask you some questions. What injustice keeps you awake at night? What really bothers you and makes you say, "I want to do something about that"? What wrong do you see in society that you want to make right? Is it in your local community? Is it elsewhere in the world? What is the cause that you care deeply about? Connect your cash to a cause, your money to a movement, your profits to a purpose. That is what changes everything. That is the Generosity Purpose.
What's your Generosity Purpose? Is it helping abolish sex trafficking? Helping your city's homeless population? Or is it more personal, like funding your children's college tuition or paying for the piano lessons your granddaughter has always wanted to take? It's not about you, but about someone or something that you believe can do more good and leave an impact on the world. After all, the Me Show will one day get canceled. The We Show always gets high ratings and airs longer.
Most people lead with, "I want to make more money." But what if you led with, "I want to give more money, and to do that, I'll have to make more money"? This is the path that gives purpose to your money, and to your life, no matter what your job is or your stage of life.
Now you might believe that making a lasting impact on the world — or even your local community — requires a lot of money. That's not even a little bit true. Start small. Help one person at a time. As you do that, you will realize you are changing their world and the world.
Regardless of the attitude toward giving that you have now, I'm asking you to rethink money — to rethink its purpose. Imagine a cause you have felt passionate about ever since you were young but didn't think you could do anything about. Now is your chance. Small or big, just get started. This is where the fun begins.
Many entrepreneurs I interviewed for my book emphasized how important it is to start early to become accustomed to both making money and giving it away. That's because both behaviors become muscle memory, as do their corollaries: bad earning and saving habits and an accompanying stinginess.
When I visit with clients, we sometimes talk about the impact of the economy on their money. But I would point out to them the difference between the overall economy and what I referred to as their personal economy. For example, while knowing the key economic indicators was important, what really mattered was their ability to put food on the table and save for personal financial goals. In other words, what does all this economy stuff mean to me? It's easy to think that making a lasting impact on the world, or even your community, requires loads of cash. But that's thinking like the overall economy. I'm suggesting you make it simple: Do what you can where you are right now as an outflow of your personal economy. Remember: Start small and make an impact on one person at a time. That's how you start to change the world.
When you start earning and saving with a purpose that excites you, it will motivate you, lighting a fire within you that burns so bright that it will lead to success in every area of your life. It will motivate you to do whatever you have to do to build your bank account — whether it's being successful in your job, getting a raise, or growing your own business. You will acknowledge your power to radically revolutionize your family's future and the future of the world around you.
You have two paths you can take. Path 1: Keep making money and stay unhappy and unfulfilled. Path 2: Make good money and lots of it, but do it by adding meaning to your money.
If you choose the first path, you are leaving on the table money and a lasting legacy that could benefit you and your family. You're missing out on helping right the wrongs that bother you the most. It's not enough to say, "I'm going to work now so I'll have more to give away later." It means nothing unless it's attached to the powerful emotion that you will feel when you have made a real impact. If you choose the second path, you are now ready to start earning with a purpose. After all, if you don't have money, you can't give any away.
I'm asking you to rethink your attitudes about money and giving and find your Generosity Purpose. One person at a time, your money can impact the world.
A member of the Rotary Club of Arlington, Texas, Derrick Kinney is the author of Good Money Revolution: How to Make More Money to Do More Good, from which this essay is excerpted.
Looking for a meaningful Generosity Purpose? Your donation to The Rotary Foundation can have a profound impact on projects to eradicate polio, promote peace, and improve developing communities. Learn more at rotary.org/donate.