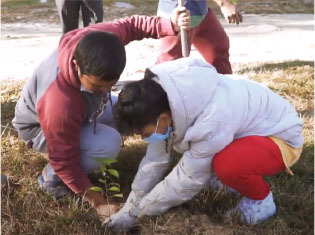 Three Interact clubs have been chosen from more than 300 applicants, as recipients of the 2020 Interact Awards.
The Interact Club of Prativa Pokhara Fishtail, Nepal, won for its video documenting the club's campaign to carry out five service activities during a 15-day period.
The Interact Club of Vishwa Adarsha, Nepal, won for its photo of a project in which members worked in a rice paddy to demonstrate the importance of agriculture; and the Interact Club of Cagayan de Oro Premier, Philippines, won for an essay about a member's participation in her club's leadership training program.
In recognition, the three clubs received funding for their next projects (funds were donated to their sponsor Rotary clubs). The Prativa Pokhara Fishtail club received $1,000, and the two other awardees received $500 each. All three received a plaque and a letter from Rotary President Holger Knaack.
Interact clubs in 59 countries submitted videos, photos, and essays that showed off their best service project, or leadership development activity.
A panel of judges made up of Rotary International staff members evaluated the submissions on criteria including creativity and storytelling ability, and selected eight videos, four photos, and four essays as finalists.
The annual Interact Awards began in 2009 as a way to engage Interact clubs around the world, and participation has increased every year. The 2020 awards, announced in January, were the first to recognize photo and essay submissions in addition to videos. See the video finalists' entries and learn more at
youtube.com/InteractOfficial
.
— JOHN M. CUNNINGHAM